Use Uber or Lyft regularly? Here's what to do if injured in a car accident with uber
Ridesharing has become a popular transportation option among the American population across the country. Today, many people prefer to ride either Uber or Lyft when going or returning from work, visiting their doctors for medical appointments and other purposes where easy and convenient mobility is desirable.
Each time you use a rideshare company, you expect the driver to be committed to the highest level of safety. But what happens if you got involved in an accident with Uber or Lyft resulting in serious injuries?
Is there any avenue for you to seek and pursue a claim?
If yes, who do you hold responsible (the rideshare driver or the company) for damages?
In this article, you will learn about your legal rights as well as the options that you have regarding claiming damages for personal injuries that stemmed from a car accident with Uber, Lyft or other rideshare companies.
For the avoidance of doubt, a passenger who sustained serious injuries may have grounds to file a personal injury lawsuit against either the rideshare driver, the other driver (s) involved in the collision or the rideshare company itself.
But as it is with most typical motor vehicle accidents, personal injury cases arising from car accidents with rideshare companies can be both tricky and complex. In fact, the circumstances of the accident can put liability in question. This is why it is crucial to engage the service of a personal injury attorney who has experience in handling Uber or Lyft accident cases.
What Should You Do Immediately After A Car Accident With Uber Or Lyft?
It is understandable that the immediate moments after the accident can leave you disturbed, confused and muddleheaded. However, your action or inaction during this phase will have a lasting impact on your claim. To protect your claim, take the following steps:
Seek medical help

Look out for other parties involved in the accident and offer help where needed

Report the accident to the local law enforcement agency

Gather evidence by documenting every aspect of the accident

You can take pictures of the vehicles involved in the accident, signage and the surrounding intersection

Document the personal information of the drivers involved in accident, including their names, addresses, color (s) and insurance info and license plate numbers

Exchange contacts with eye witnesses at the scene of the accident

Get a personal injury lawyer experienced in Uber/Lyft accident cases
Find a Personal Injury Attorney Near You
Who Do I Hold Responsible For My Injuries?
The party to hold responsible for your personal injuries largely depends on the circumstances surrounding your case. Where it is clear that the other driver involved in the accident was responsible for the collision leading to your injury, your personal injury lawyer may be able to hold the at-fault party and their insurance carrier liable for your injuries and help you recover damages.
Plaintiff personal injury lawyers represent their clients to recover the maximum compensation or settlements that will cover their clients' medical bills and other expenses directly related to their injuries.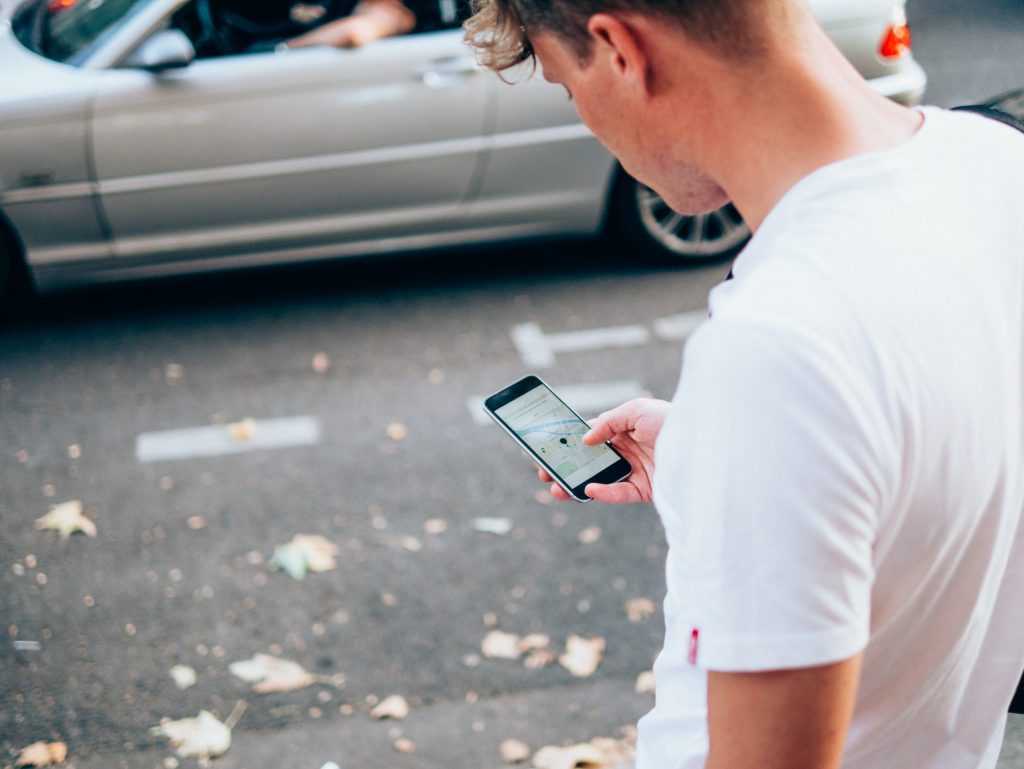 Are Uber And Lyft Drivers Insured?
In a situation where the rideshare driver was responsible for the accident leading to your injuries, you might be wondering if you could possibly hold the driver liable and pursue a claim. You can hold the rideshare driver liable and pursue damages if they have a commercial insurance policy or a personal car insurance policy that has a provision for insurance coverage while they are engaged as a rideshare driver.
But what happens if the rideshare driver doesn't have a commercial or personal car insurance policy that covers your injuries?
In most cases, the rideshare drivers' personal car insurance policies have a "business use exception." This means that they won't be covered for damages and injuries that occur while the insured are operating as rideshare drivers.
Fortunately, both Uber and Lyft have insurance policies that cover their drivers for incidents that may not be covered by their own plans.
Uber and Lyft provide $1, 000,000 accident coverage which applies during the time their driver picks up a passenger and drops them off. It is important to hire a personal injury attorney experienced with rideshare insurance law to boost your chances of recovering considerable damages for your injuries.
Can You Pursue A Claim Against Uber Or Lyft When You Are Involved In An Accident With One Of Their Drivers?
Rideshare drivers are classified as independent contractors, rather than employees of the rideshare companies. As a result, Uber and Lyft may not be liable for the actions of their drivers. However, you may be able to prove that the rideshare company shares some level of blame for the accident, probably by hiring a negligent driver.
Either ways, your best bet at getting the compensation that you need to pay for your bills and cover other expenses resulting from your injuries is to engage the service of an experienced personal injury lawyer experienced in handling Uber/Lyft accidents. Getting the compensation you need and deserve may not be easy, but it is certainly possible.